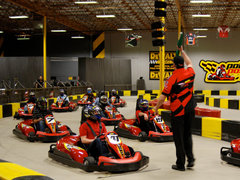 Grand Prix
Popular • The Perfect 3 Race Event for Adults!
Race 1 - Practice
Race 2 - Qualifier
Race 3 - Main Event
About
The Grand Prix is a 3-Race event that finishes with a Grid Start. First round is a Practice; race head to head as you learn the track and the karts and get ready for Qualifying.
In the Qualifying Round, you'll race head to head, but more importantly you'll race against the clock to set your best qualifying time during this race segment.
The final race is the Main Event round.
After each race, the racers are given a Speedsheet® Result Sheet showing overall racer performance compared to each other.