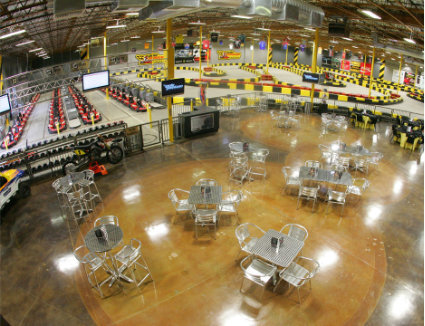 Facility Buyout
Full Facility Buyout
Pole Position Raceway's Facility Buyout includes a completely private event and access to all of our meeting and party rooms. With the Facility Buyout, the entire facility is closed to the public so your group can have exclusive use.
A Facility Buyout is ideal for groups of 24 or more including company parties, corporate team building, corporate outings, family reunions, church groups, large bachelor parties, new product launches and more.
Types of Racing: Open racing, team building exercises, elimination racing, Ironman races, Team Endurance Races, and more. We can customize your racing experience to your desire and needs.
About the Facility Buyout
Exclusive use of the 60,000-square-foot facility
Customized racing based on group size
1 to 78 racers per hour
Unlimited use of meeting and event space
Unlimited use of arcade games, pool tables and more
Completely private event (facility closed to the public)
Go Kart Track: Our giant indoor quarter-mile track is completely yours to use how you like. Choose from one our popular race formats, or customize the racing experience to suit your needs. We have 39 Adult Karts and 13 youth karts that are all yours to use. With the max capacity of 78 unique racers per hour. (When operating at max efficiency. Example: no caution laps)
Private meeting Rooms: There are four meeting spaces great for presentations or meetings. Each room is complete with AV hook-ups that connect to a giant flat-screen TV.
Indoor Spectator Seating: Our indoor spectator seating area is free space to walk or sit and watch the racing. It starts with 50 Seats included, but can expand to 299 as an optional add-on to your package.
Outdoor Event Space: Pole Position Raceways Outdoor space is modular, in that you can use it for Booth space, Event Catering space like Food Trucks, Live Stage for music or a DJ or live performances. You name it! We've done it. We've hosted events ranging from a few dozen to several hundred people.